unEarth: a virtual Installation by Ian Trask
Platform:
Website Resources
Registration:
None required
PreK-Grade 4
Grades 5-8
High School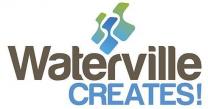 As human-induced climate change continues to evolve, the associated impacts on the Earth's ecosystems are unfolding before our eyes in real-time. To hold a mirror to some of the destructive human behaviors that contribute to this widespread undoing of the planet, artist Ian Trask will present a large-scale installation made entirely from reimagined consumer waste.  
Ian Trask is a Maine-based sculptor who received a degree in biology from Bowdoin College in 2005. He worked many years in research labs, but eventually left the world of science to pursue a career in fine art. While transitioning away from lab work he got a job as a hospital groundskeeper cleaning up trash daily, an experience that proved to be formative in his artistic development. He learned to see the potential in garbage and gradually built a creative practice that drew inspiration from the waste streams around him. Trask chooses to create his art from discarded or otherwise unwanted material in the deliberate effort to let scarcity and access dictate the direction of his work.
This project was made possible with the generous support from the Ellis–Beauregard Foundation, MaineGeneral Health, and Waterfront Maine.