Signs of Spring Bingo
Offered by:
Cape Elizabeth Land Trust
Presenter:
Philip Mathieu, CELT Education Coordinator
Rachel Davis, Library Director, Thomas Memorial Library
Platform:
Print: PDF, Word Doc...
Registration:
None required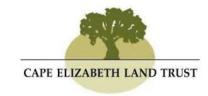 Spring is upon us! From budding lilacs, to flowering maple trees, to returning birds, the natural world is full of motion and life.
Can you find examples in your own neighborhood? CELT worked with the Thomas Memorial Library to put together a special bingo sheet and nature guide for Signs of Spring in Maine. Can you get five in a row? Or the whole sheet?
As you explore the neighborhood, make sure to note what date you observed each sign of spring on. Bonus points for recording the time and location as well (although you might need a second sheet)! For an extra challenge, take a photo with each Sign of Spring.
Note for Educators: This activity is available in a static webpage, as a printable PDF, and as a fillable Google Doc worksheet (see links above). If you plan to share with a large audience, we recommend linking to the "Activity Landing Page", which provides more explanation than the other links.