Maine Bicentennial Themed Lesson Plans
Platform:
Website Resources
Registration:
None required
PreK-Grade 4
Grades 5-8
High School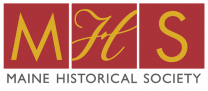 Bringing the Bicentennial to Life in Your Classroom
New lesson plans and resources will continue to be added to this page on a regular basis. Check back for more lesson plans throughout 2020!
These lesson plans provide teachers and students with diverse subject matters for each Social Studies strand, and promote critical thinking as students interact with primary documents, oral histories, and the treaties, choices, industries, and influential people who populate Maine's storied past.
Maine Historical Society's lesson plans are designed for K-12 classroom teachers and include curated online image slideshows from the collections within Maine Memory Network to facilitate teaching and learning.