Stress, Anxiety and Burn-Out
Offered by:
November Wellness Wednesdays for Educators
Presenter:
Stephanie LeBlanc, LCSW, CCS
Registration:
None required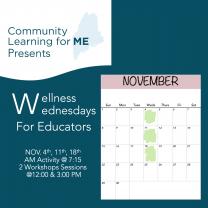 This session will provide psychoeducation on the stress continuum, anxiety and the signs of burn-out. Participants will be supported to self-assess their current stressors and effective utilization of coping strategies. Stress reduction techniques, self-care options and effective coping strategies will be presented and discussed.